For us gardening with T really changed when we started to involve him more and give him his own little
Lizard garden
before that he was disinterested, we got him his own little gardening gloves, wheelbarrow and tools and we've never looked back.
I really feel that children will become interested and excited about gardening when you start to involve them.
This simple little project is great for engagement in the garden, it can, of course be adapted by using other animal or cartoon character figures or cars etc.
To make our plant markers you will need:
A sharpie pen (or other permanent marker)
Flower pots filled with soil
Hot glue gun *For adults only*
I let T write our markers himself, again this is something which keeps him interested, he did write a little big and so you can't really read it when it's in the pot but he was very happy with them ;)
Using the glue gun attach the dinosaurs to the top of the craft stick.
While the dinosaur is drying get your child to add some stickers to their plant pots.
Plant your seeds in the pots and let your children water and look after them.
For the next 2 weeks I shall be joined by 13 fabulous bloggers, each sharing a great kids in the garden post, we're also running a linky for you to join in if you wish, I'll share, promote and pin all relevant posts.
Look out on social media or follow #kidsinthegarden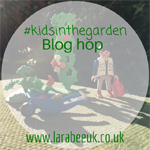 The 'rules' are very simple:
1. To include the badge on you post
2. To comment on this post plus one other.