Welcome to #LetsLearn, my weekly linky for all your learning blog posts, from early motor skills with babies, to reading and writing for early years to GCSEs and beyond with your older children. You are welcome here at #LetsLearn.
Please link up to 2 posts, old or new, got more? Never mind, more to link up in the future ;)
The rules are pretty basic, please comment on the post immediately before you in the linky, one other and on my post, I'll make sure I post on as many as I can, including the last one. Please make sure you've commented by the following Thursday evening. This way everyone participating should get at least 1 comment so it should make it a nice friendly linky!
I'd really appreciate you grabbing my badge please too, or at least pop a link back to here to say your joining in.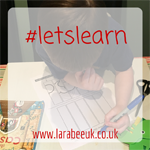 By linking, you agree for me to share your post on any social media channel and you will be added to my email and Twitter 'reminder' list.
If you tweet out using #letslearn and tag me in @LarabeeUK I'll make sure I like and re-tweet for you and if you tag me on Facebook I'll give you a share.
I'd also really appreciate any social sharing or spreading the word about this new linky please, I really want it to be a success!
So without further ado, let's get started and link-up shall we?
Have a wonderful weekend x
An InLinkz Link-up