Wow! It certainly is starting to feel like Christmas is on the way isn't it? It was lovely to see a few Christmas posts pop up in last weeks link, and some great reviews for suitable Christmas gifts. Thanks so much to everyone for your support as always.
Remember you can post your weekly post to the #toddlerapprovedtuesday
Facebook
page too, I like every one which will mean you continue to show up in my feed when you post new posts!
If you are not yet in the
Facebook
group send us a request and we'll add you. Feel free to post anything in there all through the week if it's relevant.
I have a
Stick man boo bag
for you this week! If you are not sure what I mean by boo bag, have a look at
this post
as it gives a little more detail and context.
Stir it up Sunday is one of my favourite Christmas traditions and marks the start of our Christmas celebrations. I shall be using this great
Christmas pudding recipe
from our friends at
Tickle Fingers
this year.
These easy but super effective cards from
A Whole Latte Love Blog
are just toooo cute! I think they are really great.
We would absolutely love it if you would join us, the linky will open every Tuesday and Wednesday. Every week Becky and I will each pick our favourite two links for our #ToddlerApprovedTuesday showcase which will be featured on our posts and in the weekly #ToddlerApprovedTuesday email, which hits over 125 email addresses each week!
Remember to share your post and the linky using the hashtag #ToddlerApprovedTuesday on your social media, Becky and I will retweet all your posts via Twitter (make sure you mention us in your tweets @3princess_1dude/@larabeeuk for us to be able to Retweet).
1. Link as many posts as you like (well with in reason!), remember to copy and paste the #ToddlerApprovedTuesday badge on each post you would like to link up.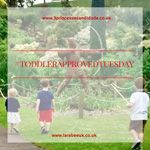 2. Pop by and comment on as many as you can. Can't comment? Why not Pin It or share on Facebook or Twitter instead? It only takes 2 seconds to click the share button!
By linking up you agree to receive future email notifications regarding #ToddlerApprovedTuesday. These emails can be unsubscribed from by clicking the unsubscribe button in the email.