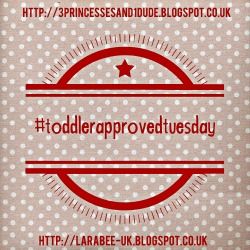 What a quiet week we had last week, I guess everyone is winding down a bit for summer, because I don't have school holidays to contend with its all the same for me, just trying to cram as much as possible in before the days get shorter and the nights draw in, although I do love the autumn too to be honest!
There have been quite a few posts on the
Facebook
group which is great, thanks too for supporting that.
Remember you can post your weekly post to the #toddlerapprovedtuesday Facebook page too, I like every one which will mean you continue to show up in my feed when you post new posts!
If you are not yet in the
Facebook
group send us a request and we'll add you. Feel free to post anything in there all through the week if it's relevant.
The #tatsummerfun activity and photo challenge started yesterday, you can find more details
here
, but basically it's an Instgram photo-a-day challenge even if youre having time off blogging over the summer, you can still join in with that if you like!
And also remember you can still enter this months #parentideaswap competition by posting a picture on our
Facebook
group page or using the hashtag in Twitter or Instagram the theme is 'crafting with junk' full details for that
here
.
This week Becky has this awesome alphabet soup post for you, I just love this and that photo,must fab!

I've got a letter recognition activity for you, at the moment T is learning to recognise both the upper and lower case letters so I created this for him using his favourite thing to play with - alphabet game tiles.
Showcases this week

I love this cardboard box car from thejoyoffive.com such imagination and fits in so well with our crafting from junk #parentideaswap.

2. The trip to cockfields farm post from Gymbunnymummy appealed to me because it showed that memories can still be made even if things don't go according to plan, thanks for sharing!
1. Link as many posts as you like (well with in reason!) BUT please remember to paste the #ToddlerApprovedTuesday badge on each post you would like to link up.
No badge, no comment, no share, and your posts will be deleted.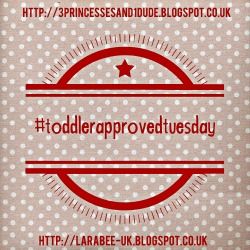 2. Pop by and comment on two or three other posts, more would be great if you can.
3. OPTIONAL: Share your post and the linky party (using the hashtag #ToddlerApprovedTuesday) on your social media, Becky and I will retweet all your posts via Twitter (make sure you mention us in your tweets @3princess_1dude/@larabeeuk). Even if you don't have a blog, please do join in by using the hashtag for your toddler approved tweets and Instagram posts, they will still be counted for the showcase! We have changed the way we share your posts, it takes so much time to pin and tweet and comment etc, so heres what is going to happen: We are opening up the T
oddler Approved Tuesday Pinterest board
to you guys too. Just send myself or Becky an email with your Pinterest name and we will add you, there is no limit on how many you add, it doesn't just have to be the post you link up with.
4. We will now only be retweeting posts Tweeted to us, and our showcased posts will also be retweeting too. We also have a fab new

Facebook group

for the

Toddler Approved Tuesday community

. Pop over and join us, share your posts, share any photos from inspiration you have had from a Toddler Approved Tuesday link up, share anything you like ;)