It was a quiet week last week, thanks to everyone who linked up with us, we hope to see some regular faces back again this week. Remember you can post your weekly post to the #toddlerapprovedtuesday
Facebook
page too, Becky and I will like every one which will mean you continue to show up in our feed when you post new posts!
We're still running some social media follows over there to make sure that we follow or like everyone, sometimes it's hard keeping up with that when you link, so do pop over to
Facebook
and request to join the #toddlerapprovedtuesday page. Thanks to everyone who have joined in.
This week I have a quick and easy to set up animal habitat activity.
Featured in my showcase this week is:
I love busy bags and think they are a wonderful idea for keeping little ones occupied! These ideas from Monkey and Mouse would be great for your summer holiday's.
1. Link as many posts as you like (well with in reason!) BUT please remember to paste the #ToddlerApprovedTuesday badge on each post you would like to link up.
No badge, no comment, no share, and your posts will be deleted.
2. Pop by and comment on two or three other posts, more would be great if you can!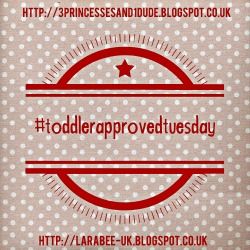 3. OPTIONAL: Share your post and the linky party (using the hashtag #ToddlerApprovedTuesday) on your social media, Becky and I will retweet all your posts via Twitter (make sure you mention us in your tweets @3princess_1dude/@larabeeuk). Even if you don't have a blog, please do join in by using the hashtag for your toddler approved tweets and Instagram posts, they will still be counted for the showcase! We have changed the way we share your posts, it takes so much time to pin and tweet and comment etc, so heres what is going to happen: We are opening up the Toddler Approved Tuesday Pinterest board to you guys too. Just send myself or Becky an email with your Pinterest name and we will add you, there is no limit on how many you add, it doesn't just have to be the post you link up with.
4. We will now only be RT'ing posts Tweeted to us, and our showcased posts will also be RT'd too. We also have a fab new
Facebook group
for the
Toddler Approved Tuesday community
. Pop over and join us, share your posts, share any photos from inspiration you have had from a Toddler Approved Tuesday link up.