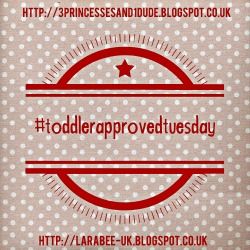 We had another great week last week, thanks so much for everyone who liked up again and welcome if it was your first link up with us.
This week I have a small toddler science project for you, and a video clip of my son & nephew getting very excited, I'd definitely recommend this activity! Here's our
erupting hearts
post.
For my showcase this week I've chosen these fab homemade name stickers from Natasha at
Serenity You
, welcome to #toddlerapprovedtuesday, I hope we see you again this week.
And I've also chosen this awesome looking book from
Daddy Daydream
I can't wait to get this for T, I think he's going to love it!
So now your turn! Link up as many toddler approved posts, old, it would be great if you could add the badge (in the sidebar) and leave a few comments on other linkers posts.