Thank you so much for your support last week for our new linky #toddlerapprovedtuesday hosted by Becky at
3princessesand1dude
, we loved seeing all your toddler approved posts and thanks to anyone reading who joined in by using the hashtag on twitter or instagram, please do join in again this week.
We would absolutely love it if you would join us, linking will open every Tuesday through to Thursdays and give us a good few days to see what your little ones have approved! We will share your posts on Twitter (make sure you follow me (
@larabeeuk
and Becky
@3princess_1dude
) and every week we will each pick our fave two for a #ToddlerAprrovedTuesday Showcase!
Rules:
1. Link 1 post per week, Remember to paste the #ToddlerApprovedTuesday

badge on each post you would like to link up (code below – paste it into the HTML option of your blogging platform).
2. Pop by and comment on a couple of other's link up's...Its nice to share the love!
3. OPTIONAL: S
hare your post and the linky party (using the hashtag #ToddlerApprovedTuesday) on your social media, Becky and I will retweet all your posts via Twitter (make sure
you mention us in your tweets
@3princess_1dude/@larabeeuk)
and also share on our #ToddlerApprovedTuesday Pinterest board. Even if you don't have a blg, please do join in by using the hashtag for your toddler approved tweets & Instagram posts.
The Badge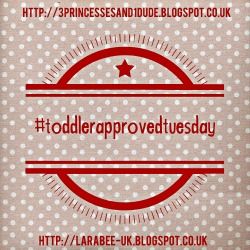 I loved everyone's links and really appreciate each and every one of you joining in, however, I must choose 2 and so here they are:-
And now for your turn! Link away, and thanks so much in advance, your support means such a lot.